After 7 hours of lessons, here I am now with a class 6 E license (3 wheels motorcycle) in my pocket and ready to ride this type of machine.  As I said in my previous article, I was attracted by the Can-Am Ryker Rally which I will discuss here in more detail.  This test is done in collaboration with Sports DRC  located in Alma, Lac-Saint-Jean, a partner of our magazine.
Features
First of all, what you need to know is that the Can-Am Ryker Rally, in addition to its off-road rally tires mounted on superb white reinforced rims, stands out with more features than the other Can-Am Ryker models.
This one comes with a skid plate on the front and another one under the vehicle.  Also, the KYB front and rear gas shocks, adjustable in 4 positions, allow us to improve driving comfort.
That being said, to keep things comfortable, it is equipped with a rally comfort seat, large adjustable non-slip footrests and an adjustable steering wheel.
Its Akrapovic muffler supposedly gives it a unique sound and its Rally mode is supposed to give us more fun. Can't wait to explore this.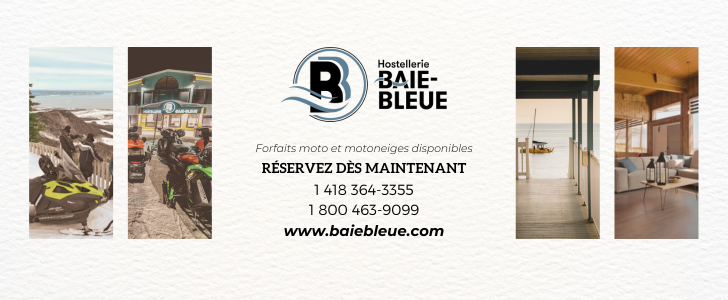 Added to all that:
2 halogen front headlights (55 W)
2 halogen headlights (55 W)
Front fender with integrated LED lights
Dual USB port
Glove box
MAX extension that allows you to upgrade from one to two seats or for different storage options
Protection for the front grill
Handguards
Cruise control
LED auxiliary lighting
Air pre-filter
Rally fender
In addition, a choice of panels and hoods of various colors to personalize our vehicle to our taste as well as some choices of rim colors are offered.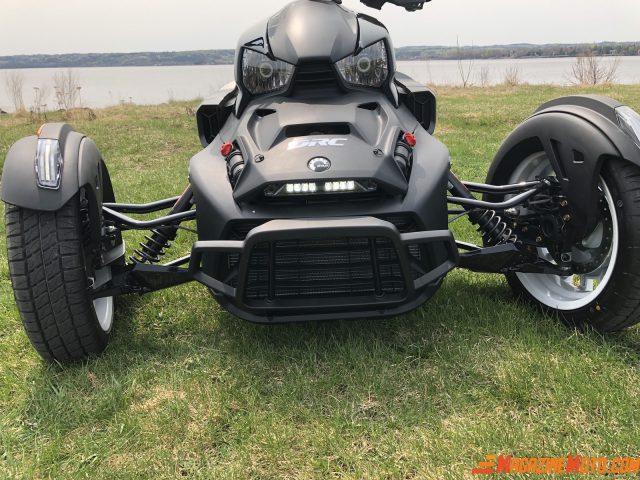 Engine
As far as the engine is concerned, it is equipped with the Rotax 900 ACE 3 cylinders with a power of 82 hp.  I know this type of engine for its reliability, but also for having one in my snowmobile with a turbo.
Talking with Ryker owners, they tell me that it is quite powerful in this machine even if it is not turbo. I'll see what it's like once I've tried it. I will give you my impressions on this point in the next article.
Transmission
Can-Am Ryker Rally is equipped with an automatic CVT (Continuously Variable Transmission) with reverse. It is similar to a snowmobile from what I understand.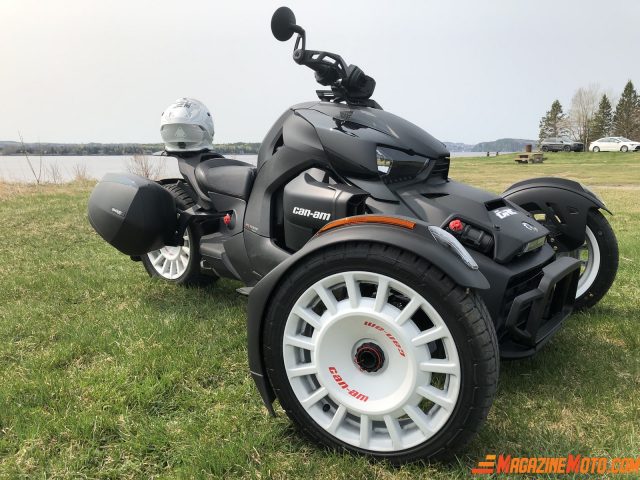 Brakes
This vehicle is equipped with a hydraulic brake system operated with a pedal located on the right foot with an anti-lock braking system (ABS).
Capabilities
The vehicle has a 20-litre fuel tank, a maximum vehicle load of 412.2 pounds and a 7-litre storage compartment. The vehicle is initially designed for one passenger, but a passenger seat can be added (optional) to make it a two-seater.
Dimensions
Dimensions are 92.6″ x 59.9″ x 42.9″ (L x W x H) and it has a dry weight of 668 pounds.
Safety
It is equipped with electronic safety systems such as stability control (SCS), traction control (TCS), hill start assist (HHC) and a digital anti-theft encoding system (D.E.S.S).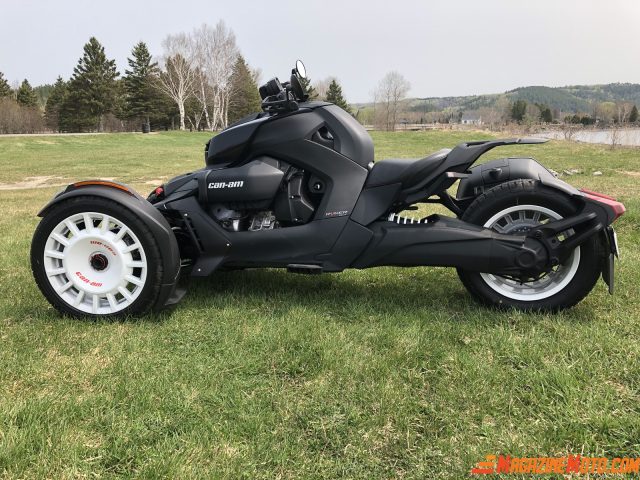 Added Equipment
In order to enjoy this vehicle even more, I asked him to add some equipment such as a passenger seat, a folding backrest for the passenger, a suitcase on the right side, more significant steps and a lock for the hand brake (otherwise anyone could move the vehicle).
 Conclusion
In conclusion, you will be able to read in my next article what I observed about its road handling, its comfort, its power, its fuel consumption, the pleasure I had while driving it the first time and more.  To be continued…
For more information, contact DRC Sports or Can-Am.