The Kawasaki VN1700 Vaquero 2023 has caught the attention of cruiser motorcycle enthusiasts with its imposing and elegant design. Let's be clear; this bike sparks a lot of discussions about what it offers for its price. Indeed, the Voyager and Vaquero versions come with a lot of standard equipment, and getting the equivalent from other manufacturers can often mean a significant additional expense.
But I have some questions. Is it too good to be true? Is Kawasaki sacrificing quality to achieve this? Let's take the time together to find an answer.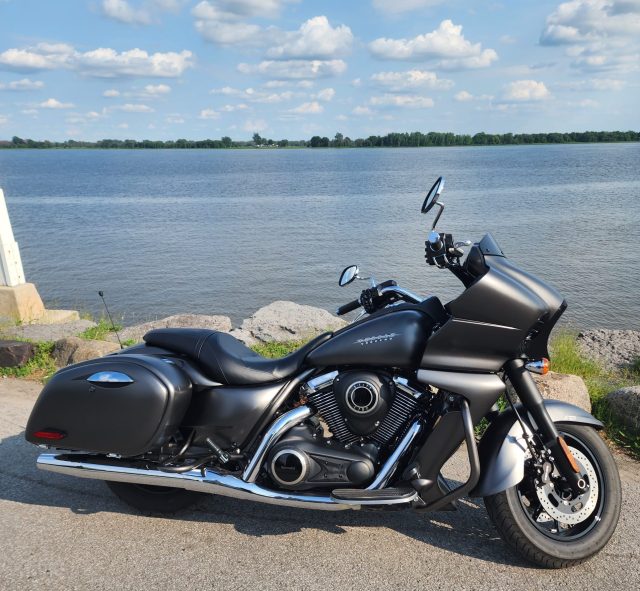 Eye-Catching Design of the Kawasaki VN1700 Vaquero 2023
The design of the Kawasaki VN1700 Vaquero 2023 skillfully combines classic and contemporary elements, creating a fluid and appealing aesthetic. The Japanese manufacturer clearly responds to market trends by offering a satin finish, a combination of black accents and chrome, all highlighting the clean lines and thoughtful design details.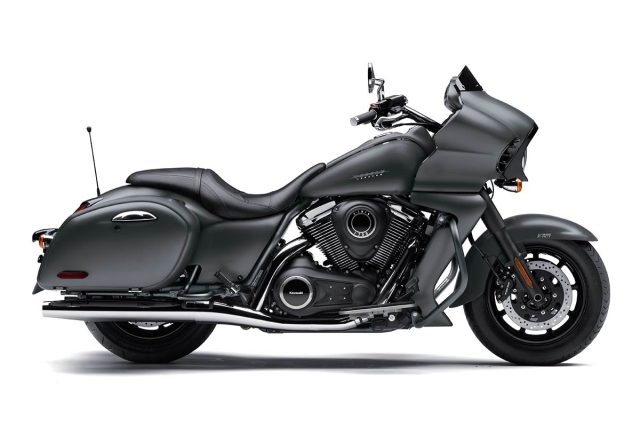 Assembly and Material Quality to be Revised
However, despite the undeniable visual appeal of the Vaquero, some aspects of its assembly and material quality leave much to be desired. Specifically, criticism focuses on the speaker section and the two storage compartments. It is clearly evident that the doors of these compartments are vulnerable to short-term damage due to the thinness and flexibility of the material used.
Motorcycle enthusiasts who favor the latest high-end smartphones will also be disappointed as the compartments are too small to accommodate these devices. As a result, adjustments or replacements may be necessary after a few years of riding on our picturesque roads.
Assembly Quality and Motorcycle Details
However, when it comes to the assembly of the motorcycle itself, engine components, and accessories, there is nothing to complain about. You can truly feel the brand's experience and craftsmanship. However, it is worth noting that there is discord in this harmony due to a rather questionable design choice regarding the passenger footpads.
The visible and uneven welds of these elements distinctly contrast with the motorcycle's aesthetic.
Performance of the Kawasaki VN1700 Vaquero 2023
The Kawasaki VN1700 Vaquero 2023 is powered by a 1,700 cc V-twin engine that delivers 81 horsepower. Its six-speed transmission allows for smooth gear changes. The ergonomics are both ingenious and comfortable, thanks to the thoughtful combination of floorboards and foot controls.
The 20-litre fuel tank offers a satisfactory range for long journeys, allowing you to cover approximately 425 kilometers between each fill-up, depending on your ambitions regarding speed and acceleration.
Impressive Power, Exceptional Ride
When it comes to on-road performance, the Kawasaki VN1700 Vaquero 2023 provides rapid acceleration and a comfortable cruising speed. However, it's important to note that some competing motorcycles, especially those of American origin, offer superior performance in this category. The Vaquero's throttle response is sharp but may seem a bit anemic in comparison.
Overall, the motorcycle is well-calibrated, offering a pleasant riding experience thanks to its V-Twin engine while promising long-term reliability. This is particularly appealing to riders who cover long distances.
The suspension, carefully tuned and combined with a low center of gravity, ensures impeccable road handling. Despite its imposing dimensions, the motorcycle remains very maneuverable, making it accessible even for taller riders.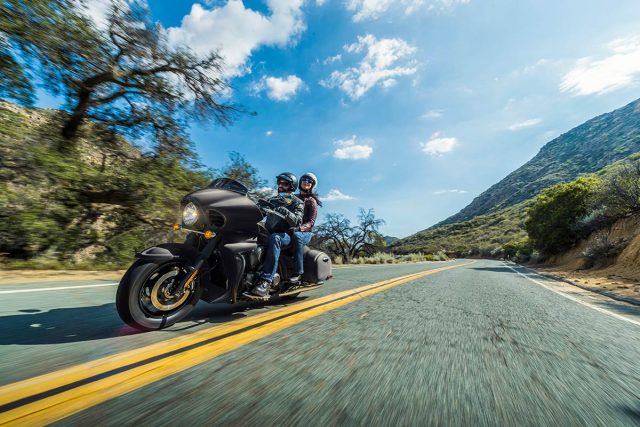 Comfort
The VN1700 Vaquero aims to provide optimal comfort during long rides. Despite its slightly less firm feel for an optimal riding position during extended journeys, the spacious and well-padded seat offers good lumbar support. Also, the adjustable handlebar allows for customization according to the rider's preferences, accommodating riders of various sizes.
The motorcycle is equipped with a standard-quality audio system that performs well even in windy conditions. While the windshield provides good wind protection, some riders may experience turbulence at higher speeds due to its lower and stylized design. For taller riders, like your humble servant standing at over 6 feet, wind protection may be insufficient. Fortunately, options are available to address this issue.
Technology and Safety
The VN1700 Vaquero's LCD dashboard provides clear readings of essential information, although its interface may appear somewhat dated compared to some competitors. The tire pressure monitoring system is a convenient addition to maintaining proper tire pressure, which proves to be very useful. Therefore, the cruise control is effective, and the controls are easy to operate.
In terms of safety, the Vaquero's ABS braking system offers balanced braking power, reducing the risk of accidents. LED daytime running lights and LED taillights also improve visibility, enhancing safety on the road.
Verdict?
The Kawasaki VN1700 Vaquero 2023 is an attractive cruiser motorcycle. Its honest performance, decent comfort, and safety features make it an interesting choice for enthusiasts of this segment. However, it's important to note that some aspects, such as the prevalence of plastic components, the motorcycle's lack of throttle response, and seat comfort, could be improved to compete with other motorcycles in this category.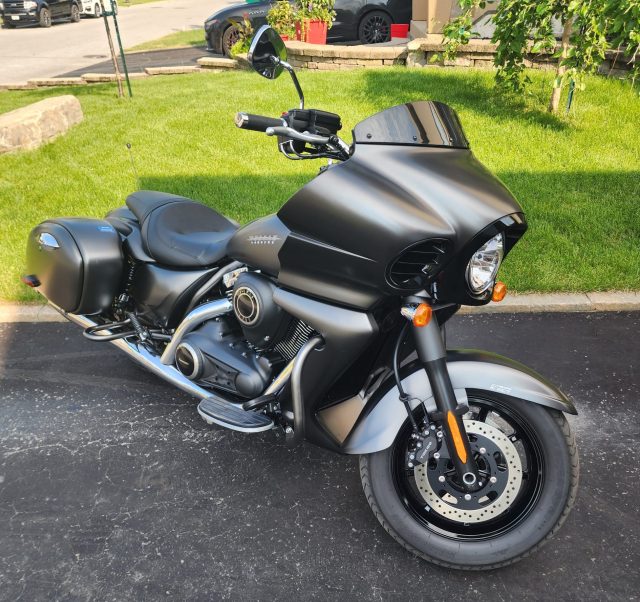 Despite these few areas that could be improved, the Vaquero remains an appealing option for those seeking an imposing cruiser motorcycle with reliable power and eye-catching style. So, in my opinion, it's worth considering as it undeniably offers a lot for its price. If you're looking to get the most value for your money and enjoy the renowned reliability of an established manufacturer, it deserves serious consideration.
Check out our latest reviews, here: