3-wheeled motorcycle enthusiasts, I'd like to introduce you to the Harley-Davidson Tri Glide 2023, which I had the pleasure of testing in June. All thanks to RPM Harley-Davidson in Jonquière, Saguenay, whom I'd like to thank very much.
If you haven't yet visited Jessica and her gang at the dealership, go there now and come back to read my article afterwards. You'll see that it's like going into a candy store. You can even get a tattoo or a haircut on the spot.
That said, and now that you've seen the store, I was about to introduce you to the Harley-Davidson Tri Glide 2023. It's a 3-wheeled motorcycle that claims to be "fully loaded" and limitless. Here's why…
Engine
Fully loaded thanks to its Milwaukee-Eight 1868 cc, 93 hp engine. This is the ninth generation developed by the Milwaukee company and introduced in 2017.
With its 120 lb/ft of torque, it can be found on some softails and all touring models, including trikes (3-wheelers). For example, the model we're interested in is the Tri Glide. I got a good feel for all the torque it delivers.
From what I've heard, this engine is very reliable.
Transmission
The Tri Glide is also powerful thanks to its 6-speed CRUISE DRIVE transmission, which provides smooth, even shifting. I must say, I'd never touched one of these in my life. Even so, I found it very easy to operate. It's like a manual car, or almost.
The sixth gear, which is used at higher speeds (from around 100 km/h), reduces engine revs, so you get the best possible combination of rpm and speed.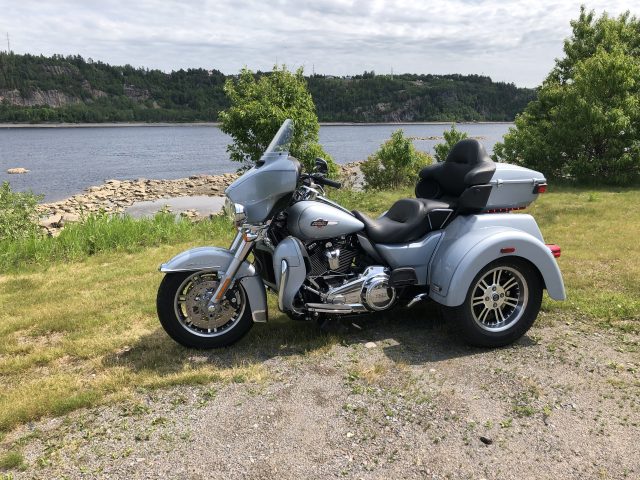 Features
Described as "Limitless", this comes into its own with the following features.
Suspension:
The rear shocks are adjustable by hand, under the seat.
Still, I found it very firm on bumpy country roads. I would have expected the suspension to be softer. But, on the other hand, that probably means that on the open road, it's very stable and helps us stay on course.
Braking System:
Dual floating discs (front) and fixed discs (rear). They work really well and are powerful.
Reverse Gear:
Electric, fingertip-controlled.
This system is necessary given the size of the vehicle (1236 lbs). It's not super-fast, but it gets the job done.
Seat:
Comfort is really good for both driver and passenger.
The only 2 minor drawbacks are the passenger grab handles, which dig into the thighs, and the passenger footrests, which should be adjustable. The dealer offers the possibility of adding them.
Fuel Consumption:
Its advertised fuel consumption is 5.6l/100 km. I observed that it was a little more than that, but the vehicle wasn't "roasted". Fuel tank capacity: 22.7 liters
Front Fairing:
Really good wind protection.
On warmer days, knee-high hatches can be opened for good ventilation. When it's colder, just close them and keep the warmth the engine gives off.
Infotainment System:
It's very user-friendly and easy to use once you've familiarized yourself with it. It includes navigation, Bluetooth and a good-quality sound system.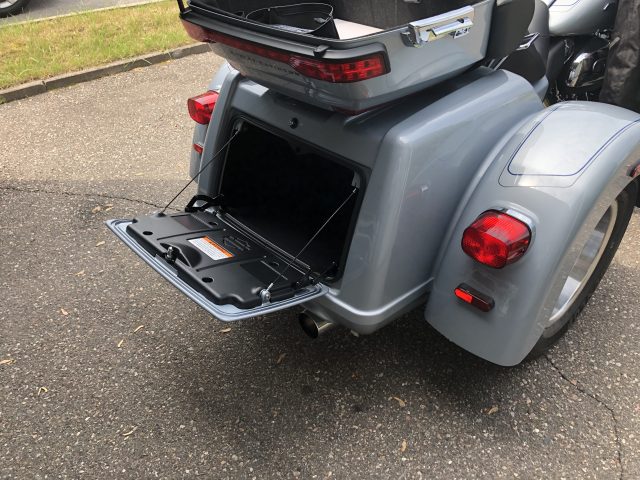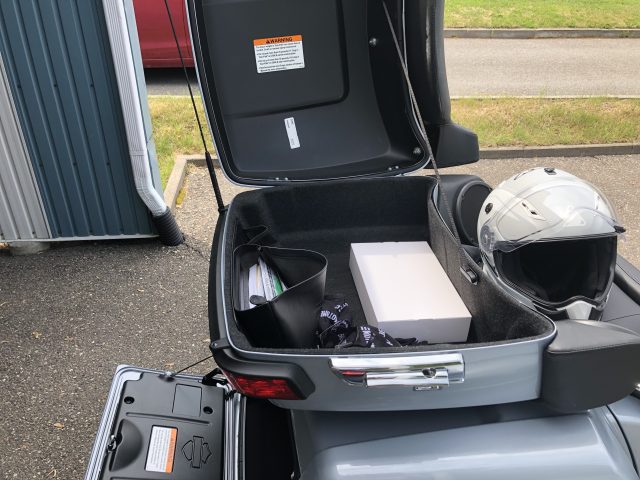 Storage Space:
There's enough space to bring along luggage for a few days.
The integrated rear trunk offers ample storage capacity. Combined with the luggage rack behind the passenger, this gives a total of 190 litres of storage space.
Driving Dynamics
In terms of handling, on the straights, I really felt like I was on a two-wheeled motorcycle.  On bends, you certainly don't counter-steer, but they're easy to take and without too much effort.
Overall Riding Pleasure
Overall driving pleasure is very good. It's a very comfortable grand tourer, and I could have driven for hours and hours without stopping.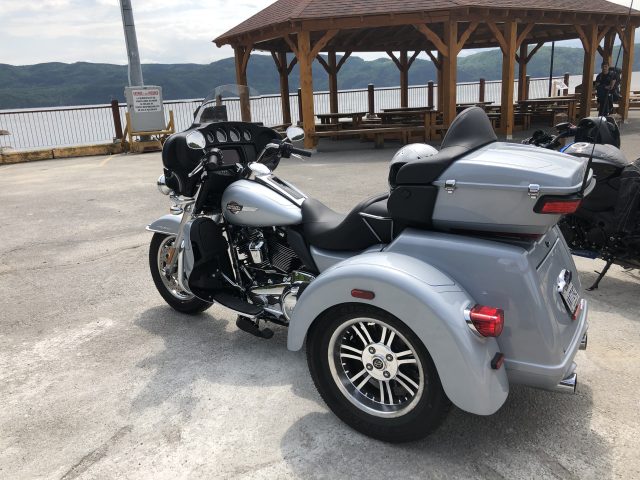 Who are the customers for this 3-wheeler?
Before concluding, I asked myself this question: who is the clientele for this 3-wheeled motorcycle?
Most of them are Harley-Davidson enthusiasts. The die-hards who have this brand tattooed on their hearts, having owned one or more in the course of their lives.
They simply want to keep riding their Harley-Davidson, but no longer feel comfortable on 2 wheels. They want to be very comfortable. It's often based on a couple's decision too, because after all, the passenger does have a say.
As for me, I liked it, but I'm not there yet. It will probably be a choice years from now.
Conclusion
To conclude, I was truly blessed to be able to test ride the Harley-Davidson Tri Glide 2023. It's an incredible feeling to feel this machine purring between our legs. The manufacturer is celebrating its 120th anniversary this year, and the bikes on offer are just as unique as the first ones to hit the road.
I've been dreaming of riding a Harley-Davidson for as long as I can remember, and it's clear to me now that I'm not going to stop there, as you can imagine. That's what prompted me to sign up for my 2-wheel motorcycle course. So, you'll definitely be able to read me on the subject in the near future.
For more information, drop by at RPM Harley Davidson or visit Harley Davidson website.