In my opinion, Dunlop had no choice but to introduce the Trailmax Raid. They had been delaying it because, within their existing range, they had already covered the two extremes of the sport.
On one end, Dunlop provided the Trailmax Mission for on-road use, while the combination of D606 at the front and D908 at the rear was designed for off-road adventures. 
Trailmax: Your Urban Companion
This tire truly stands out with its impressive mileage capacity and excels on roads, gravel, and rocky terrains. As long as the conditions are dry, this tire performs exceptionally well. 
But when do its limitations start to show? 
 As soon as the rain begins to pour or in softer terrains. The tire tends to accumulate mud quickly, turning it into a not-so-handy "slick" in muddy conditions.
Allow me to share an anecdote: one of my partners found himself stuck on a trail nestled between two mountains, with no feasible way to climb either slope. Thankfully, a side-by-side came to the rescue, towing the bike up the slope to resolve this challenging situation.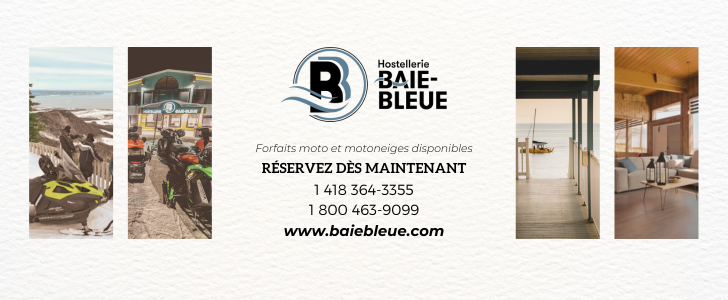 In terms of mileage, you can expect to cover around 25,000 km with this tire, though the actual distance depends on conditions and throttle usage.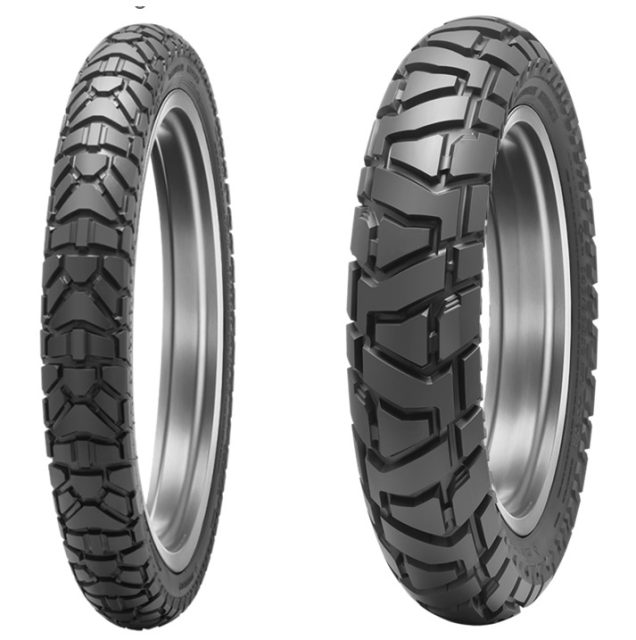 Dunlop D606 and D908: Off-Roading's Best Companions
The Dunlop D606 and D908 tires cater primarily to off-road enthusiasts. However, as is customary with tires of this caliber, they come with certain trade-offs.
Their more aggressive tread patterns make them noisier and prone to causing increased vibrations when used on roads. On top of that, their on-road stability is slightly compromised, and they tend to wear out the studs prematurely.
So, what makes these tires a top choice?
Their exceptional performance shines on rugged trails, delivering maximum traction where it's needed the most.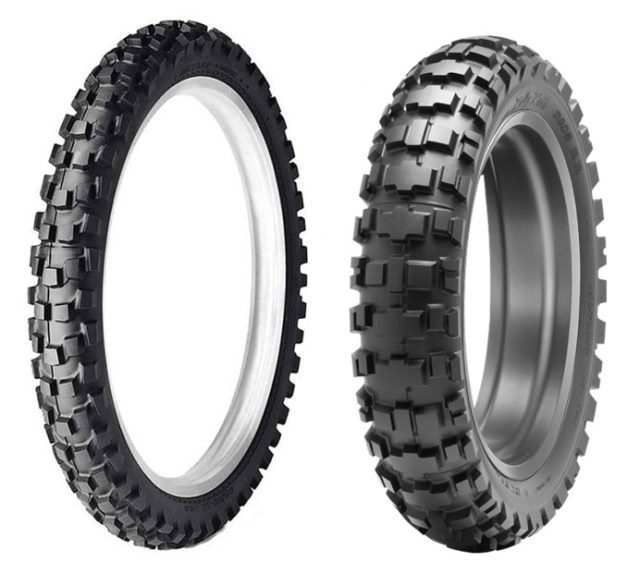 Dunlop Trailmax Raid. The best of 2 worlds?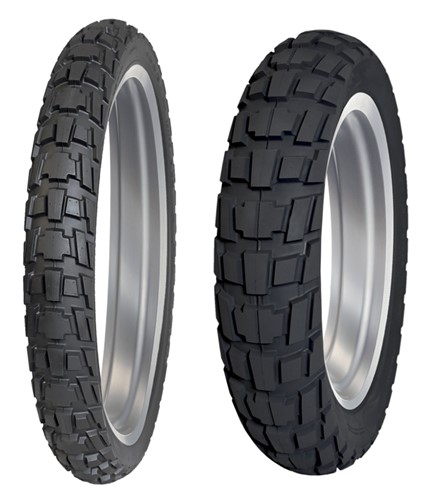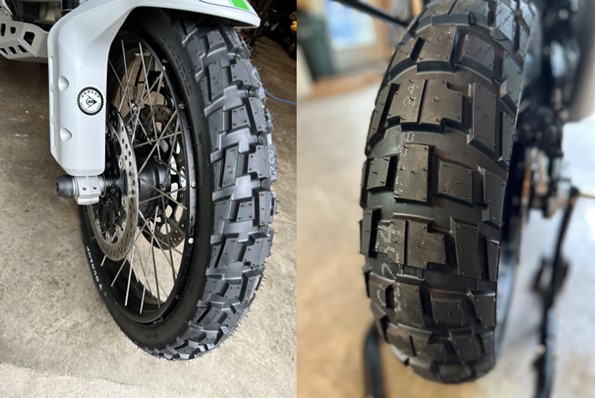 Dunlop Trailmax Raid: Part 1—On-Road Performance
Introducing the "new kid on the block." As soon as these tires are mounted on your rims, they exude promise. With their notably aggressive studs and ample clearance between the blocks for efficient mud evacuation, they feature a rounded profile.
Adding to their allure, the edge studs of the tire are generously wide and are bridged to the inner studs nearer to the center. 
Trailmax Raid: How Does It Handle Curves?
When you leave the tread, some adventure tires with a square contact patch may lose their grip, leaving only the thin layer of outer rubber to keep you in control.
On high-speed rides with tires bearing square treads or motocross-type studs on the outer surface, instability can be a concern. This instability typically manifests as a back-and-forth motion when the bike is leaned. 
We remain hopeful that the Trailmax Raid won't exhibit such issues.
First Spin with the Trailmax Raid
My initial impression, right from the first few kilometers, was how effortlessly the tires glided. It felt like having an additional front and rear suspension, especially when compared to my previous tire set. The vibrations and stud noise on the pavement were minimal, leaving me genuinely optimistic.
Embarking on the Road to Adventure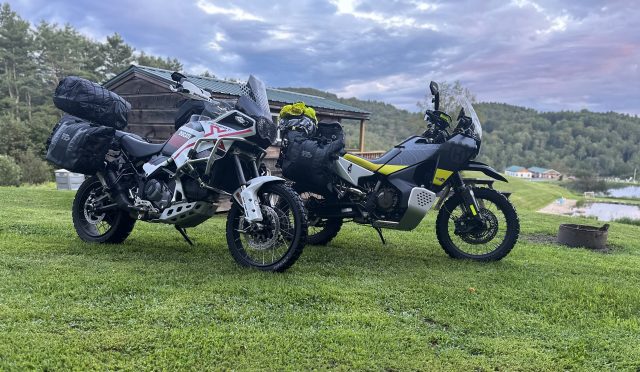 The initial few hundred kilometers were dedicated to our journey to the Dirt Daze event, situated in North Haverhill, organized by Touratech. Our route followed section 6 of the NEBDR, with our bikes loaded up with all the camping gear needed for a week-long stay.
One standout quality of the Dunlop Trailmax Raid that's worth mentioning is its impressive stability at higher speeds, especially when compared to other motocross tires.
Many adventure tires tend to wobble when maintaining a constant speed on the highway, and they can become a bit risky when accelerating rapidly. However, with the Dunlop Trailmax Raid, hard acceleration on straight away and braking are surprisingly smooth, reminiscent of a high-quality road tire on a sports bike.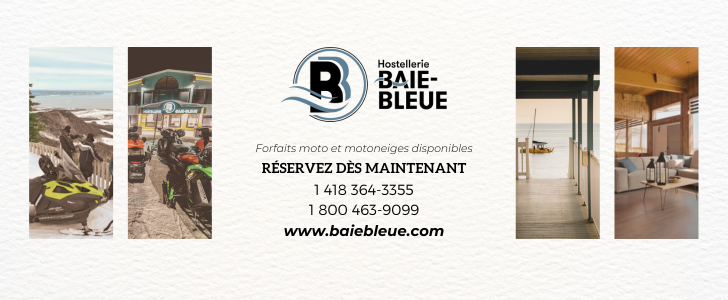 Cornering Performance
This is the aspect where the Trailmax Raid truly shines. Its stability and precision while cornering are nothing short of impressive. You can easily predict the tire's behavior in a turn. Making it a breeze to transition smoothly from left to right, and it tends to feel nimble—although it's worth noting that the experience may vary depending on the motorcycle model.
The tire's grip is exceptionally strong, providing outstanding traction, which significantly enhances the joy of spirited road riding with a touch of adventure. It's reassuring to have the confidence that the tires won't let you down. (However, it's essential to keep in mind that even the best tire cannot eliminate the inherent risks of gravel-covered curves or slippery surfaces.)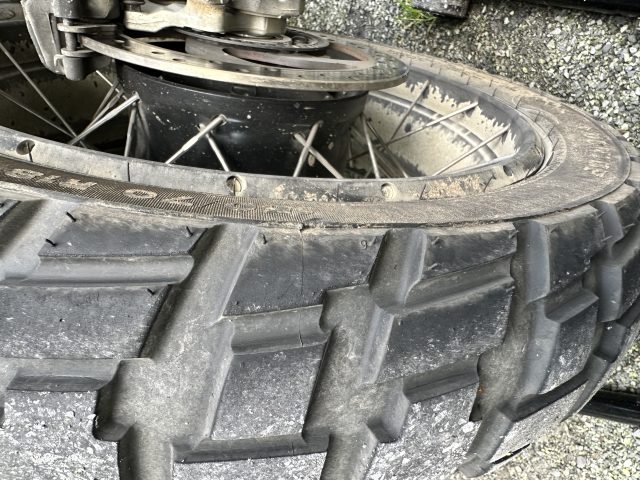 Dunlop Traimax Raid 3,500-kilometre Test Drive
Driving on the road can indeed be fun, but an adventure tire must also prove its worth. Our journey encompassed roughly 3,500 kilometers, with nearly half of that distance traversing various trails, and we've drawn significant conclusions about the Trailmax Raid. This tire exhibits true versatility, showcasing impressive performance on both the road and off it.
When it comes to gravel sections, the tire boasts exceptional grip, likely owing to the pliable rubber that seems to cling tenaciously to any surface it contacts. This tenacity extends to climbs whether on rocky or stony terrains. A little bit of momentum is all it takes to conquer such challenges.
The only situations where the tire reaches its limitations are in dense, deep areas. However, this caveat is relevant only in comparison to another tire designed for 20% road and 80% trail use. You'd need to venture into the most extreme conditions to justify switching to a different tire, all while considering the inherent compromises of such a change.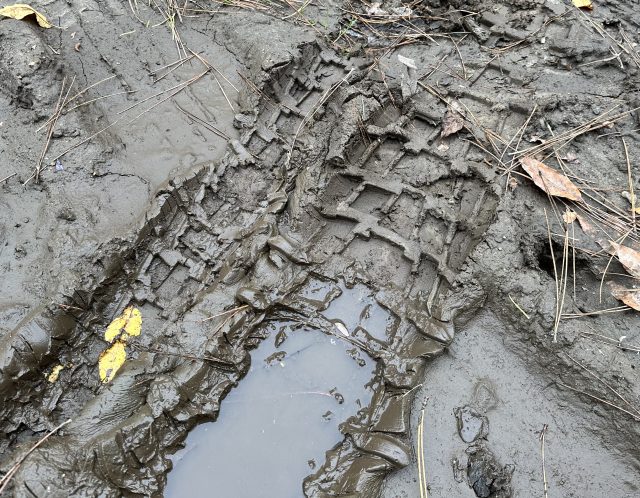 Dunlop Traimax Raid Tire Wear After 3,500 Kilometers
We measured the tire wear directly, excluding manufacturer data.
Front (new): 9 mm (11/32)
Front (with 3,500km): 7 mm (10/32)
Rear (new): 10 mm (12/32)
Rear (with 3,500km): 6.5 mm (8/32)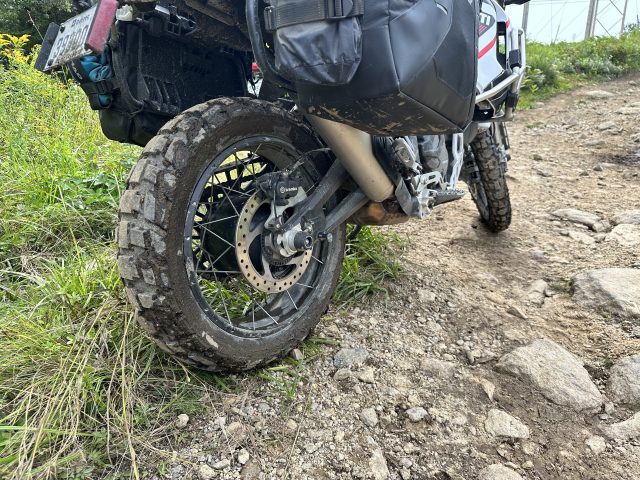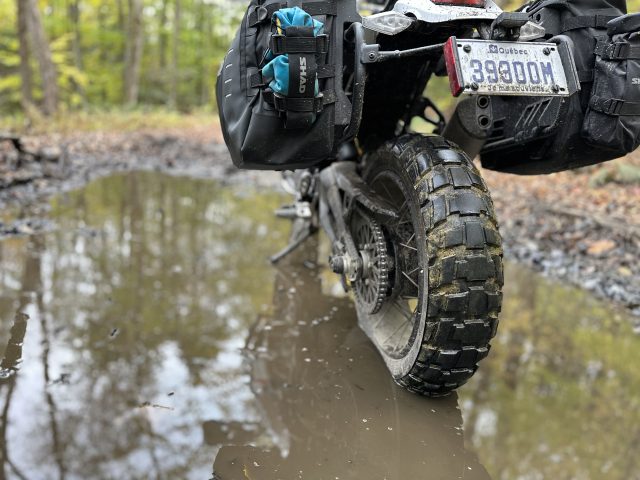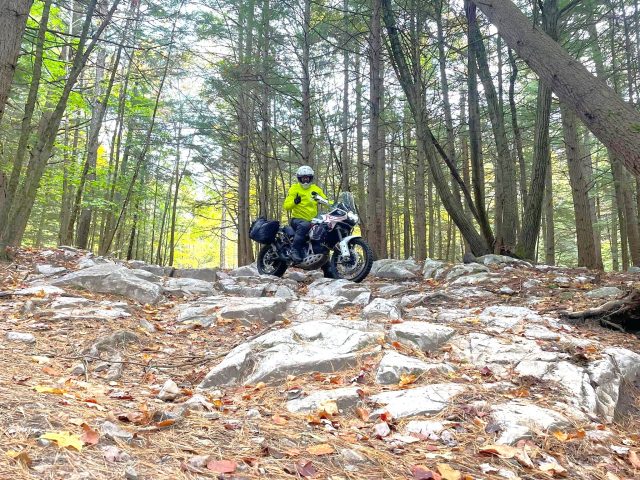 In Conclusion
The realm of adventure motorcycling is a realm of trade-offs. Riders' preferences can be as diverse as the terrains they traverse. In this context, the Dunlop Trailmax Raid admirably spans about 90% of the spectrum bridging the gap between on-road and off-road performance.
While some tires may excel in the remaining 10–15% of the spectrum, this superiority often comes at the cost of significant compromises in other areas.
Many thanks to Importations Thibault for allowing us to test this tire. Please do not hesitate to contact them for information on prices and availability. 
Dunlop provides some additional information and performance details for the Trailmax Raid below: 
This tire is classified as a 40/60 adventure tire.
It excels on a variety of terrains, combining excellent off-road traction, cornering grip, wet handling, resistance to chipping, balanced maneuverability, and performance worthy of road tires.
The aggressive tread pattern is derived from Dunlop's popular D908RR. It has been optimized to reduce rolling noise while improving on-road performance without sacrificing off-road performance.
Unsurpassed wet performance thanks to a wet-focused compound with highly dispersible high-surface silica.
The tire's construction is based on a design method known as Dynamic Front Formula (DFF). This uses a complex balance of cross-sectional profile, carcass material properties and assembly processes to deliver exceptional handling.
The Carcass Tension Control System (CTCS) uses variable tension across the entire width of the carcass to optimize the contact surface, providing an ideal footprint and outstanding handling.
Jointless belt construction (JLB) in radial sizes eliminates belt overlap. This improves handling, reducing dynamic tread growth at high speeds, and minimizing distortion and excessive overheating.
Tread block connecting bars help stiffen the surface for improved handling and stability.
The rear tread features larger center blocks to cope with on-road driving and high-horsepower engines.
The Raid range includes both radial and diagonal sizes, to suit a variety of motorcycle models. 
Pros: 
Exceptional Road performance, including acceleration, braking, cornering stability, and traction.
Round profile for smooth left-right transitions on the road.
Solid off-road performance in most conditions.
Comfortable ride with minimal vibration.
Low noise level during the initial 3,500 kilometers of use.
Uniform tire wear for both front and rear over the first 3500 km. 
Cons and Considerations: 
A dual compound tire with a harder center tread would be preferred.
While the tire offers a good grip, its long-term durability remains a question.
Increasing stud height could enhance longevity.
Not a pure motocross tire, so some users might experience traction limitations.
| | | | | | |
| --- | --- | --- | --- | --- | --- |
| TIRE NAME | SIZE | LOAD/SPEED INDEX | FULL TREAD DEPTH | MAXIMUM LOAD @ PSI | |
| TRAILMAX RAID FRONT | 90/90-21 | 54T | 11/32 | 467 @ 39 | |
| TRAILMAX RAID FRONT | 110/80R19 | 59T | 10/32 | 536 @ 39 | |
| TRAILMAX RAID FRONT | 120/70R19 | 60T | 10/32 | 551 @ 39 | |
| TRAILMAX RAID REAR | 130/80-17 | 65S | 13/32 | 639 @ 36 | |
| TRAILMAX RAID REAR | 140/80-17 | 69S | 13/32 | 716 @ 36 | |
| TRAILMAX RAID REAR | 150/70R17 | 69T | 12/32 | 716 @ 39 | |
| TRAILMAX RAID REAR | 170/60R17 | 72T | 12/32 | 783 @ 39 | |
| TRAILMAX RAID REAR | 140/80-18 | 70S | 13/32 | 739 @ 36 | |
| TRAILMAX RAID REAR | 150/70R18 | 70T | 12/32 | 739 @ 39 | |
Continue reading our most recent articles: