Every time I mention that I've been to Italy, people look at me with envy.  When I say I went on an organized group trip, the looks are much less envious.  It's a pity, this thought that organized trips are heavy… For the @Bonne Ride team, this was clearly not the case.  In fact, I'd go so far as to say that setting off with complete strangers who share the same passion as us opened our minds to many things and that the experience was more than enriching!
To hell with prejudice, we've learned that group travel is an unforgettable adventure!
The Planned Trip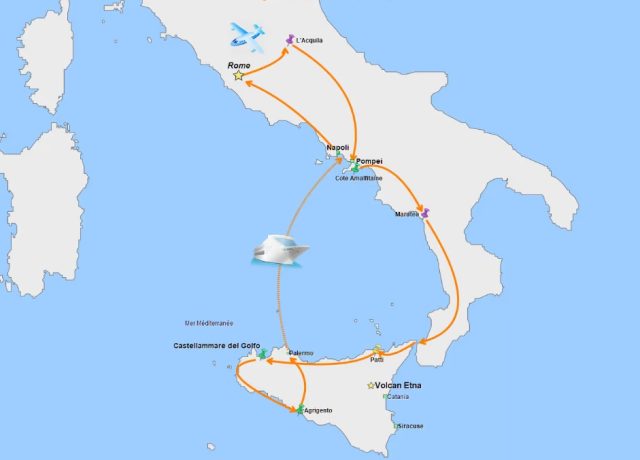 First of all, we arrived in Rome and then headed for Abruzzo, descending a few days later to the south of the country.  The scenery is breathtaking as we make our way down the Amalfi Coast, with its seaside landscapes and sheer cliffs, to the multi-millennial city of Pompeii.  After some magnificent and delicious stops (because yes, we eat too well!), we continue on to Maratea and the surrounding area for a few days' visit.  From Maratea, we head for Messina to take the ferry to spend a few days in Sicily: volcano Etna, landscapes of flowers and villages perched high up, incredible food… these 4 days are marvellous and allow us to meet fantastic people.
The return to Palermo and then the return of the great Sicilian ferry to Rome makes us nostalgic… And this dream trip ends with two days of freedom in Rome to visit its hidden treasures!
What You Need to Know
MOTO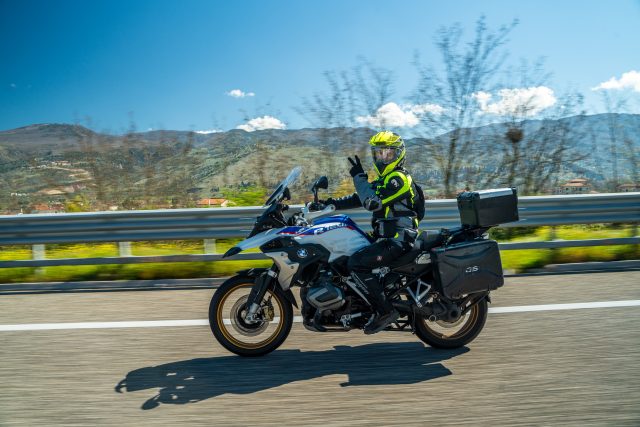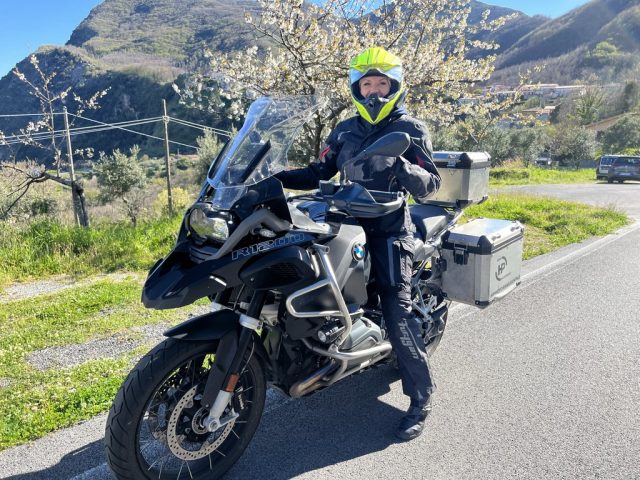 Discovering a new country by motorcycle requires organization.  You need the right travel insurance, and ideally, you should always deal with a competent travel agency to make sure you're protected in every possible way.  An incident or unforeseen event can happen so quickly… and if it causes material damage or injury, you need to make sure you're well covered.  In our case, @Mégavoyage takes care of everything: booking hotels and restaurants, renting motorcycles and the insurance that goes with them, and optimizing routes according to weather, current conditions and activities.  It's a turnkey trip, with payment deposited in a trust fund that guarantees no problems should anything go wrong.  Vehicles are fully insured, so if anything should happen, you don't have to worry about a thing.
Most international travelers opt for an adventure motorcycle.  They're nimble and easy to maneuver on winding roads and in all conditions.  Suitcases allow you to store your luggage securely.  And because they're a little higher than regular street bikes, they let you take intense turns without rubbing.  In short, with our BMW motorcycles, we made the most of every ride!
Pro Tip
A word of advice?  Before you leave for your trip abroad, I strongly suggest that you test-ride the motorcycle you've chosen here in Quebec.  That way, you'll be able to analyze the size of the luggage compartments (because you're always dragging all your luggage on the road), as well as validate the bike's height and various options.  You'll be able to make sure that it suits you and that you'll be comfortable, especially if you have a passenger.
In fact, during our trip, one of the couples who accompanied us had problems with their motorcycle, and so did we.  No problem at all!  The rental company came halfway so we could swap bikes!  Easy as pie!
Imagine taking off with a motorcycle you own.  In the event of a problem, you have to find a competent mechanic, have the mechanic order the parts, carry out the repair, etc., and during these steps, you lose time and the travel bill swells…
Another advantage of renting bikes locally instead of bringing your own is that you don't lose any time in your season here in Quebec.  Let me explain: transporting a motorcycle from one country to another takes time, so you have to send it before the trip and receive it afterwards. So you lose a minimum of 2 to 3 weeks of your season here.  So, in addition to taking more risks in the field in the event of a breakdown, we risk losing part of our precious season here: it's a good idea to think about it!
FOOD AND LODGING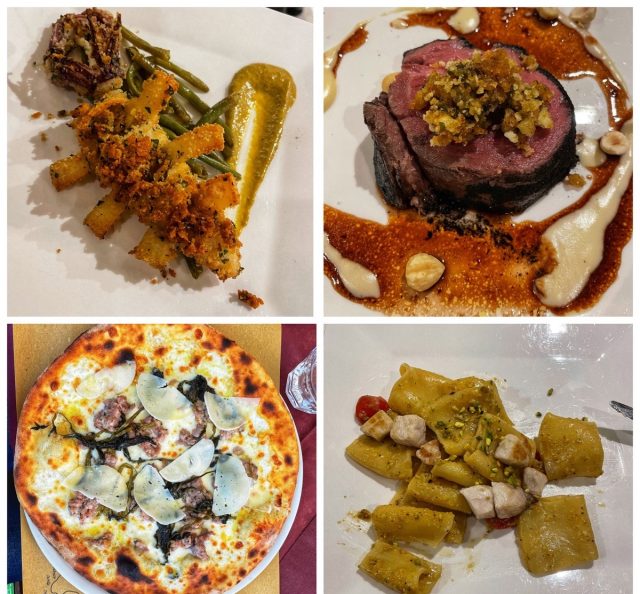 Going with a guide is an incredible culinary experience!  Massimiliano, our guide and organizer, tries out each of the restaurants we visit before we go.  Each one is chosen for specific reasons.  Whether it's a specific dish from the region we're visiting that's cooked to perfection, or a unique ingredient used in the establishment, he always has tons of stories to tell.  We feel welcomed as if we were dining with family.  Everyone knows our guide, and we get incredible service every time.
I won't lie to you, the fact that he speaks 3 languages fluently also helps enormously!  And it's the same with the accommodation.  We stayed in a host of different hotels throughout the trip.  Some were more sober and others incredibly luxurious, but they all had one thing in common: they had an exceptional view, a prime location or simply a unique, warm welcome.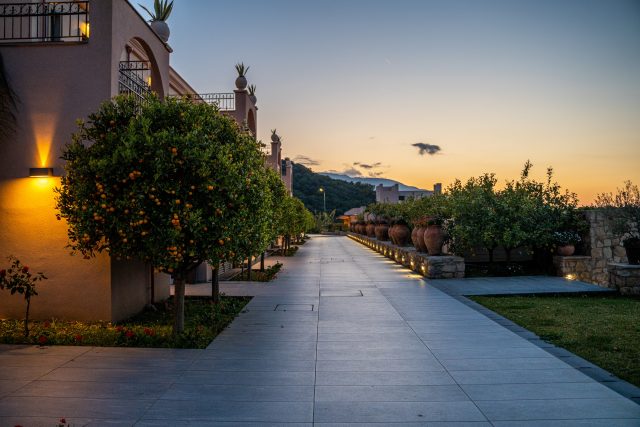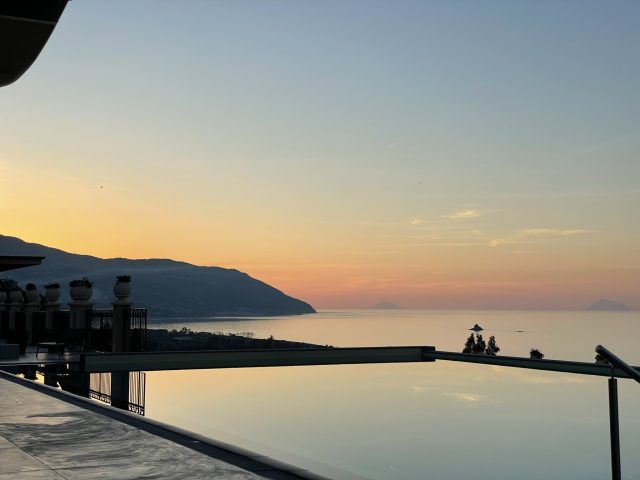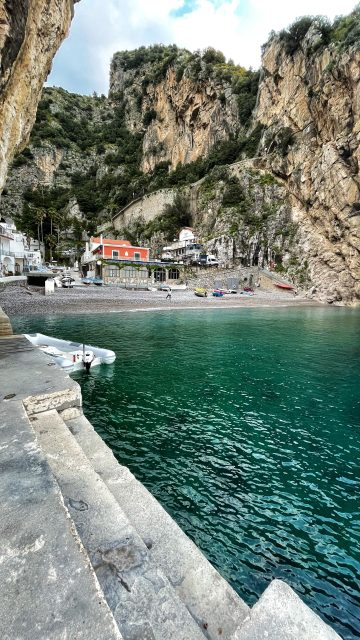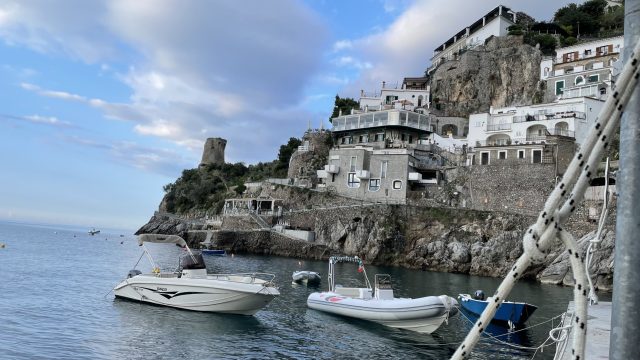 TOURISM
Obviously, when you go abroad, you want to drive and devour the miles.  But you also want to take advantage of the trip to visit the history and incredible places you pass through.  On this trip, we were lucky enough to visit several places that are thousands of years old.  Already, landing in Rome on the first day got the trip off to a great start!  Seeing Vatican posters on the road leading to the hotel was unsettling.  It took us a while to realize where we were, and we accepted our time difference one hour at a time.
Some of the highlights of this two-week trip were much more than thousand-year-old villages… Here are a few of them: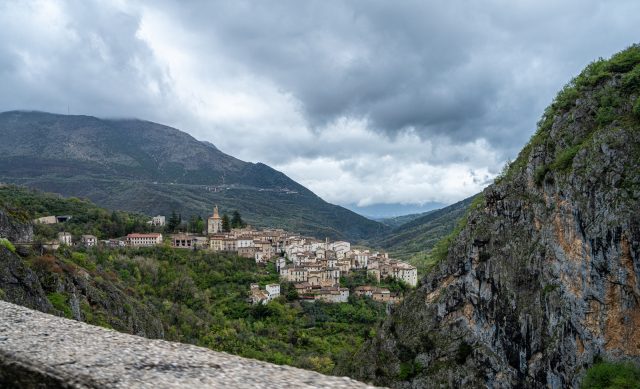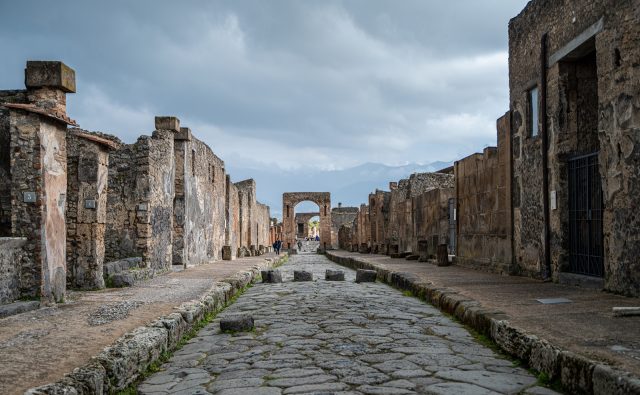 An Incredible View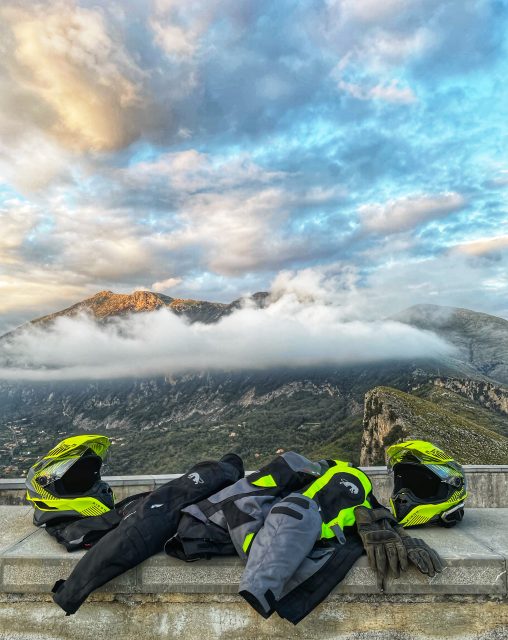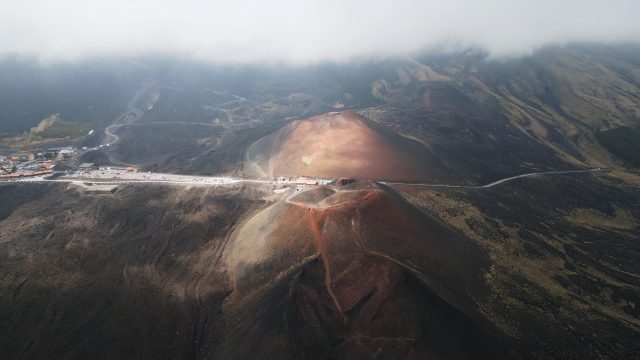 Rome
Rome… the last two days of our trip have given us the chance to get to know it well.  Once the bikes were returned to the rental company, it was the electric scooters that took us around the city, and believe me, it was absolutely crazy!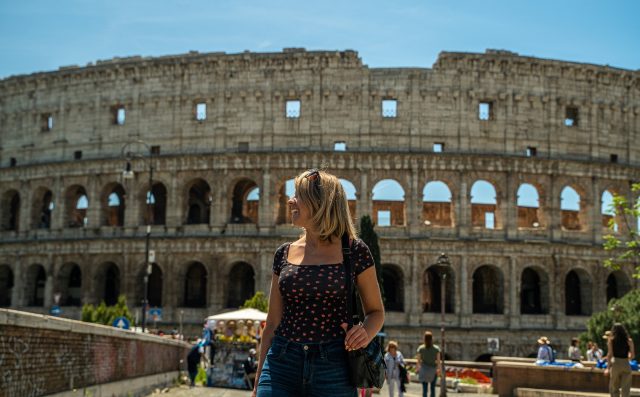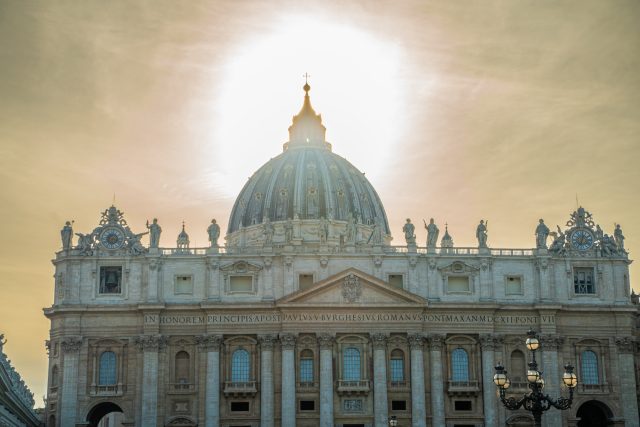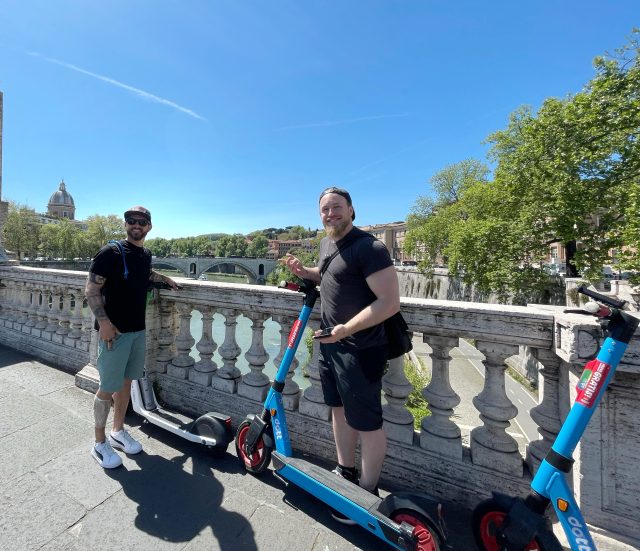 THE ROADS
Visiting another country by motorcycle obviously means adapting to the local way of riding.
Definition of Italian-style driving: knowing how to take your place in a traffic circle, overtaking pretty well wherever you have two seconds to do so, driving fast and assertively around tight bends, knitting on your motorcycle in traffic between cars while realizing with pleasure that that's what people do over there and that they even give you room to do it!  In short, it takes nerve, finesse and eyes the size of your head!
I think everyone on our trip agreed on how demanding hairpin bends are.  Because taking a bend of this calibre, especially when it goes up or down with an obvious gradient, requires a good dose of courage.  We had to adapt the way we drove to do it well; playing with our engine speed and practically forgetting about the brakes and clutch in certain conditions.  Practising our idling manoeuvres before setting off on the trip was really beneficial.  Such demanding rides require real preparation before setting off, and a refresher course before setting off is an excellent idea.
PEOPLE
Going on an organized trip also means meeting people and sharing your daily life and stories with them.  For us, it was a hugely enriching experience.  Most of the couples and people who accompanied us were no first-timers.  Some of them had been to several, all over Europe and the world.  As a result, we were able to discuss their experiences around the table at group meals, and listen to their wild stories during the more boisterous evenings.
Over the course of these two weeks, a sense of belonging developed between us.  We get to know each other's little routines and develop almost family ties.  We get attached to people, and we're especially grateful for the chance to share special moments with them.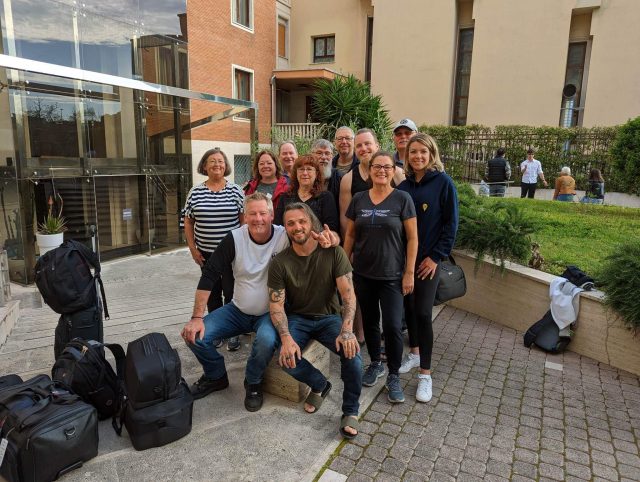 IN CONCLUSION
This kind of trip makes us grow as riders, but also as people.  As well as learning 1000 things about the country's history by visiting its key places, we can perfect our motorcycle riding exponentially.  Pushing the limits by riding on demanding roads, where you have to trust yourself and apply all your skills, also makes you very proud.  I think it's the best way to train as a rider while enjoying all the riches that travel brings.
Living out our passion with like-minded people in a unique setting, supervised by competent people, makes for an unforgettable experience.  To experience it once is to want to do it again every year!
When are you going to give it a try?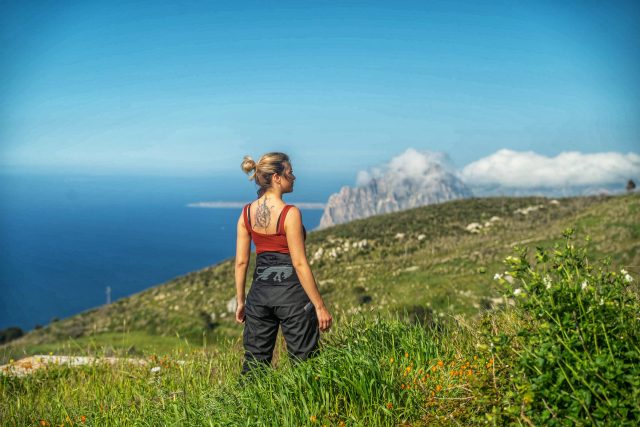 To contact our guide and the Megavoyages Agency : CLICK HERE
To find out more about the Bonne Ride project : CLICK HERE
Photo Credit :  Val Ménard, Max Sheehy, Hybrid Dynamic.
Keep reading with our latest articles: